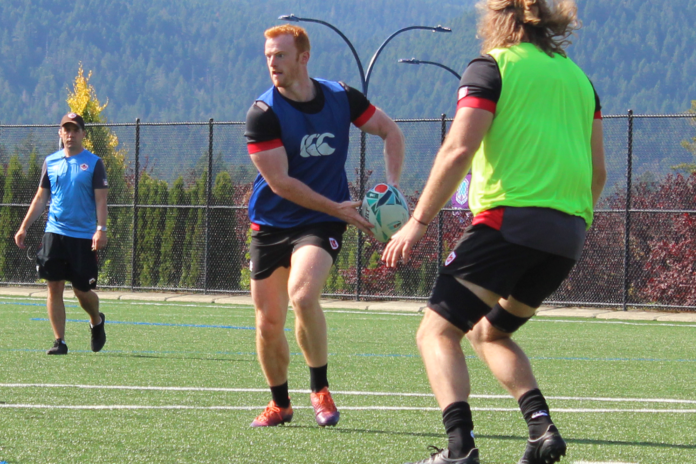 Nelson is one of two players that have the opportunity to earn their first cap during this summer's Pacific Nations Cup alongside Toronto Arrow Andrew Quattrin.
Nelson's Canadian connections are his Grandmother who lived in Toronto and moved to Ireland at the age of 8 years and sadly passed away earlier this year.
Celtic Canada chatted with Peter about this exciting moment in his career….
Peter, How does it feel being on Canadian soil?
P: Very exciting loving every minute of it, a great group of lads very helpful getting me settled in. Beautiful Vancouver, the weathers a bit different and the scenery is gorgeous.
What excites you about this upcoming Pacific Nations Cup? USA fixture on July 27th in Colorado?
P: For me it's real excitement, International rugby the highest level you can play at!  It is a dream to play at this level, something to really look forward to an exciting target for me.
Moving onto Leinster – Leo Cullen's powerhouse…. Fight song Molly Malone … Tim Horton's Field in Hamilton filled with Irish eyes… how will you feel about playing against Leinster? 
P: Yeah strange didn't think that would come around again, they are one of the greatest clubs in Euro, a massive challenge, played against them when I was with Ulster, they are a magic team. There will be a lot of Irish in the arena and that will make for a great game.
Your debut was Ulster vs Leinster in 2011 – how much has changed since for you since then?
P: Yea a fair bit seems like a long time now, but I have grown as a person and player I have learned a lot since then.
Are you excited to be teamed up with one of rugby's finest coaches Kingsley Jones?
P: Been great working with him real exciting, challenging us as a squad and enjoying it, all the lads are a very talented group and Kingsley's been brilliant.
You have played across a number of positions, including outside half, fullback and centre, during your eight years at Ulster – what position are you most confident in? or enjoy the most?
P: Not really sure, a lot of full back but enjoy both positions, delighted to get on pitch in some capacity if selected. Me strongest position would be full back. Have been playing a lot of outside half recently but really enjoy playing there as well.
Have you enjoyed preparing for the World Cup training camp?
P: Yeah, new guys different style of play, training is a little bit done like a pre-season, a lot of weights, a lot of fitness and skills similar format a lot of the stuff on the pitch been great and learning as I go here as we get familiar working with the lads.
Did you ever think you would be playing for Canada against Leinster in Canada?
P: Wow….no I definitely didn't think I would be in a Canadian jersey, a bit of a shock and surprise at the same time playing against a team I know so well in Canada.
---