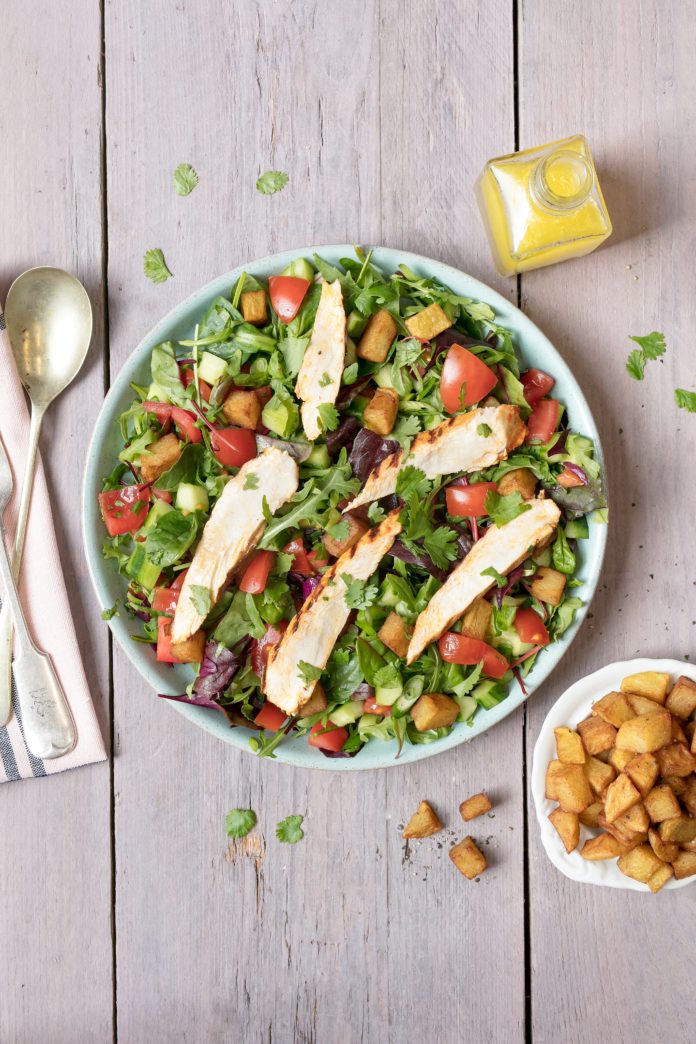 Ingredients
For the chicken:
2 tablesp. harissa paste
3 tablesp. white wine vinegar
4 chicken fillets
For the roasted potatoes:
300g potatoes, peeled and diced
½ tablesp. rapeseed or olive oil
1 teasp. ground cumin
1 teasp. garam masala powder
½ teasp. chilli powder
For the dressing:
2 tablesp. white wine vinegar
2 tablesp. Rapeseed or olive oil
For the salad:
½ a cucumber, deseeded and chopped
4 tomatoes, chopped
3 spring onions, finely sliced
2 tablesp. fresh parsley, roughly chopped
1 tablesp. fresh coriander, roughly chopped
200g mixed baby leaf salad
Method
Whisk together the harissa paste and vinegar, then add to a re-sealable plastic bag with the chicken fillets. Seal and toss the chicken in the marinade to coat. Refrigerate for at least one hour.
Preheat the oven to Gas Mark 6, 200˚C (392˚F).
Toss the ingredients for the roasted potatoes together on a baking tray and roast for 30-35 minutes, tossing halfway through, until browned. Leave to cool.
Heat a barbecue or grill pan over a high heat. Cook the chicken fillets for five minutes per side until cooked through. Set aside to rest, then slice into thick strips.
Whisk the ingredients for the dressing in a small bowl until combined. (Alternatively, combine in a small jar with a tight-fitting lid and shake to emulsify).
Toss the remaining ingredients for the salad and divide amongst four serving bowls. Top with the chicken pieces, crispy potatoes and a drizzle of dressing to serve.