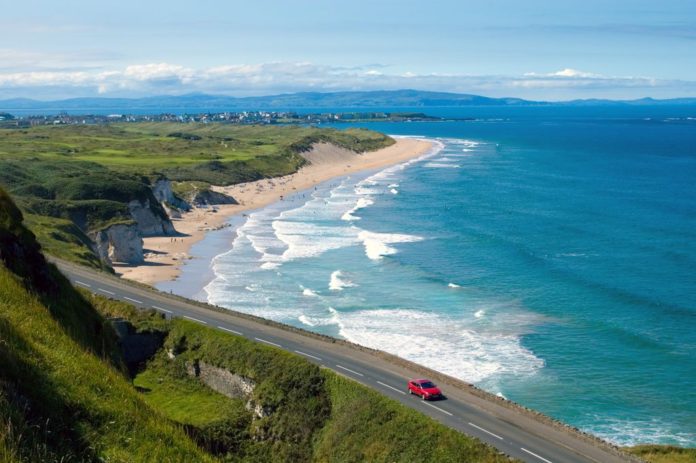 Virtual Reality Tours of the Wild Atlantic Way Piloted by Fáilte Ireland at International Tourism Fair in Berlin
March 15th 2016 – Fáilte Ireland announced that it has captured a number of unmissable experiences along the Wild Atlantic Way for virtual reality (VR) viewing, giving people the chance to remotely experience 3D tours of the coastal route. Piloted last week at the international tourism fair ITB in Berlin, VR gives Fáilte Ireland the chance to show buyers and potential visitors just what they are missing. The experiences will be shared on the Oculus store where millions of people with VR headsets can download and enjoy them, further promoting Irish tourism across new and innovative channels globally.
The tourism authority are also investigating the possibility of integrating the VR experiences across their Tourist Office network and ultimately offer it to trade and industry partners to use for their own promotional activity.
Fáilte Ireland's Director of Marketing, Noel-John McLoughlin said:
"Virtual Reality is proving to be a game changer in how experiences are consumed and this technology is set to be the most exciting innovation in travel and tourism marketing during 2016. I am delighted to say that Ireland is leading the virtual charge and is at the forefront of this new wave of innovation."
"With these virtual tours of the Wild Atlantic Way, we can bring the excitement and thrill of the world's longest coastal route directly to buyers, consumers and media and allow them to truly sample what Ireland has to offer."
The Virtual Reality (VR) experiences created by Fáilte Ireland, starring some of our partners in the promotion of the Wild Atlantic Way, include:
· Beach horse-riding experience on one of Ireland's most beautiful beaches with the imposing Ben Bulben Mountain as a backdrop – with Ursula Schweiger O'Connor from Island View Riding Stables;
· Climbing one of the tallest sea stacks in Europe, in the wonderful northern headlands of Donegal – with Iain Miller from Unique Ascent;
· Surfing the crest of a wave directly below the iconic Cliffs of Moher in Co Clare – with world renowned champion surfer, Ollie O Flaherty;
· Cycling through some of the most beautiful rugged landscapes on Ireland's Wild Atlantic Way – with Patrick O'Regan from Burren Way Mountain Bike Tours.
Fáilte Ireland piloted the use of these experiences on VR headsets at ITB Berlin- March 9-13th , one of the world's largest tourism trade fairs with 10,000 exhibitors from 187 countries and territories and with approximately 100,000 international trade visitors and members of the public in attendance. The experiences were extremely popular and drew a great response from those who tried them with one overseas user commenting:
"You forget it's a 3D/360 experience and you think its reality. It really gave me the full experience of the Wild Atlantic Way – I never knew you could do that in Ireland, it was amazing."
For more on the making of the VR films and the reception they received, visit our YouTube channel
The virtual reality experiences were commissioned by Fáilte Ireland and filmed during February by Big O Media using specialised cameras to create suitable material to stream through Samsung VR Gear and Occulus Rift Technology.
Addressing the advantages and applications of the new technology, Amanda Horan, Sales Development Officer with Fáilte Ireland who piloted the demonstration in Berlin, pointed out:
"This is brand new technology and Fáilte Ireland wants to exploit 'early mover advantage' to ensure that Ireland stands out and that we can grab attention for new experience brands such as the Wild Atlantic Way.
"The reception we received in Berlin proves that this accessible and interactive technology can open up great potential for Irish tourism and, already, we are planning how we may incorporate it into our tourist office networks as well into the many trade fairs and industry platforms where crucial travel decision making takes place.
"Emerging technology like this will also significantly influence our ongoing experience development work – along the Wild Atlantic Way, across Ireland's Ancient East and in Dublin – as we strive to improve the interpretation and animation of storytelling at key sites."
For an update on all Fáilte Ireland's recent work on the Wild Atlantic Way, please click here
Follow us on Twitter @Fáilte_Ireland