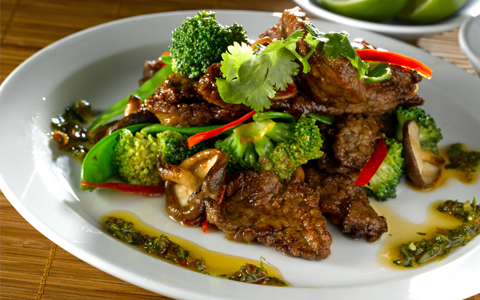 The lime juice adds an extra zing to this quick and flavoursome stir fry.
Ingredients
750g sirloin or rump steak, thinly sliced
2 tablesp. olive oil
1 tablesp. cornflour mixed with a little salt and freshly ground black pepper
100g broccoli, chopped
100g mushrooms, thinly sliced
100g mange-tout, thinly sliced
1/2 red pepper, peeled and chopped
2 cloves garlic, peeled and chopped
4cm piece of ginger, peeled and chopped
Juice 2 limes
2 teasp. sugar
1 tablesp sweet chilli sauce
1 tablesp. soy sauce
Method
Heat a wok until very hot. Add a tablespoon of olive oil. 
Coat the beef in the seasoned cornflour and stir-fry, in batches, until crispy. Remove to a dish and keep warm while cooking the vegetables.
Add a little more oil to the wok. Add in the broccoli, mushrooms, mange-tout, red pepper, garlic and ginger and stir-fry for a couple of minutes.
Return the meat to the wok and add in the dressing ingredients. Stir to combine and continue to cook for another minute.
Serve with steamed potatoes or rice.
Source: BordBia